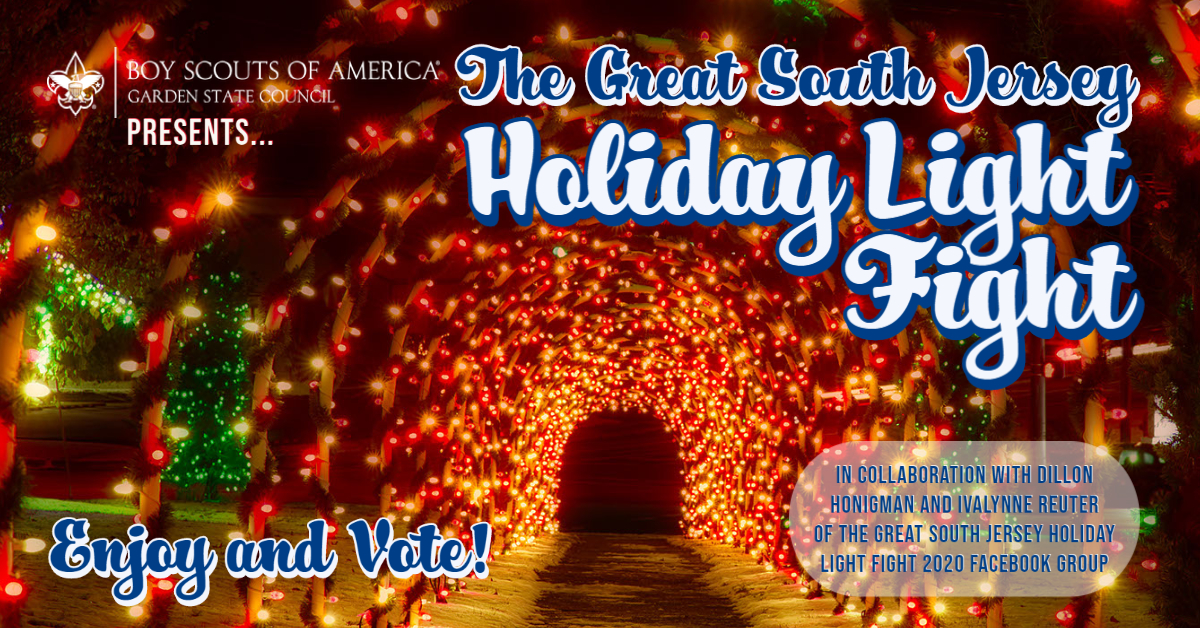 Stay tuned for details about this exciting activity!
December is a season of lights! Get ready to visit the best holiday lighting displays throughout South Jersey, and then vote for the best in each County! Get ready for… The Great South Jersey Holiday Light Fight!
Dillon Honigman and Ivalynne Reuter started a private group on Facebook to collect the addresses of homes ready to bring cheer and joy to visitors. Surprassing 3,000 members, this Group also shares decorating ideas as well as great buisness displays and holiday destinations. To increase the reach of this socially distant family activity, Dillon and Ivalynne contacted Garden State Council and a community minded collaboration was born.
South Jersey residents seeking to compete for the title of South Jersey Holiday Light Fight winner can submit their display for consideration. We will also have a category for business displays!
The addresses of participating homes and businesses will be available here, and in our event's public Facebook Group. Visitors are encouraged to vote for their favorites! (Voting will open soon)
Contestant Submission Coming Soon!
List and Map of Participating Locations Coming Soon!
Scouting is for Everyone!
Scouting is adventure, family, fun, character, leadership, and so much more.
In Scouting, boys and girls start with their best right-now selves and grow into their very best future selves. 
It's fun, hands-on learning and achievement that puts kids in the middle of the action and prepares them for today — and for life.
Garden State Council serves the kids and their families of six New Jersey counties. Our camp properties serve as gateways to adventures in the Pine Barrens, the Jersey Shore, Philadelphia, and everything in between.
New to Scouting in the BSA? Explore our Programs, below.
Have questions? Contact us.
Ready to find a unit near you? Contact us, or visit BeAScout to search units by zip code.