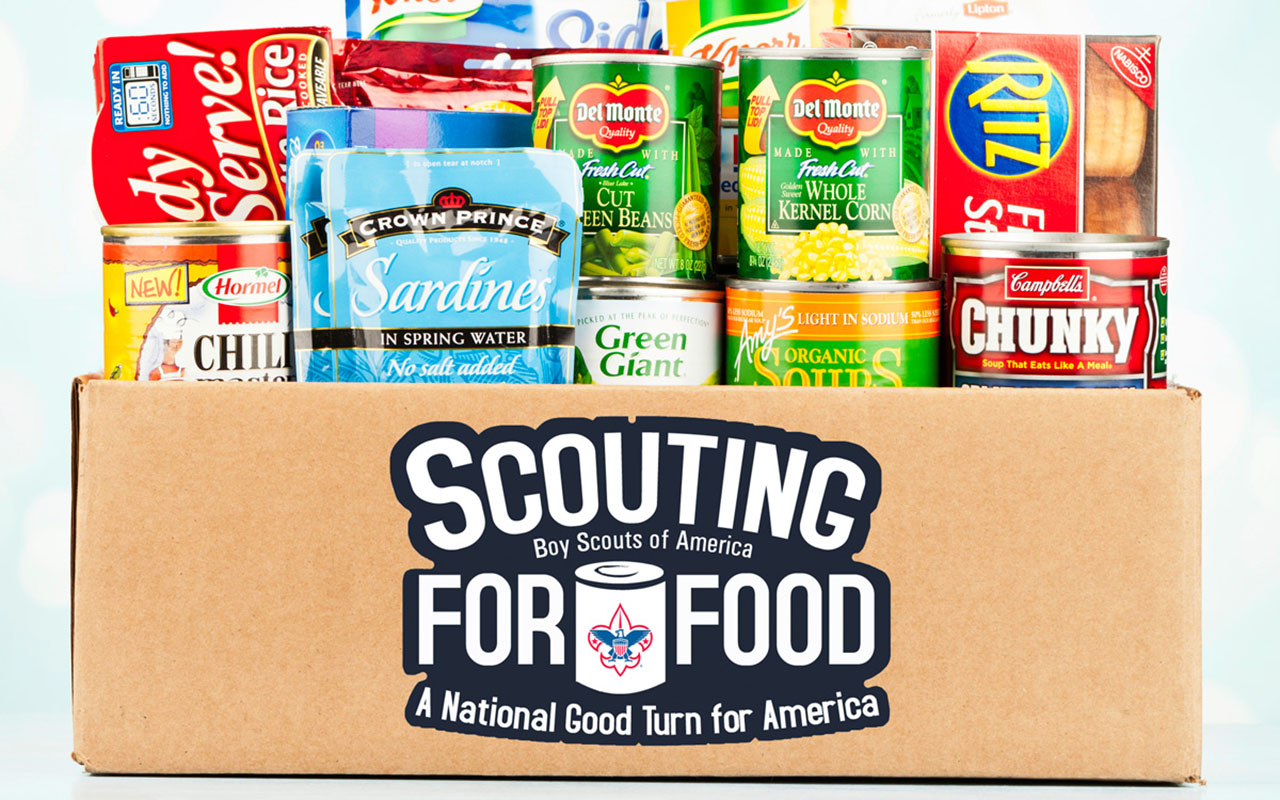 The Scouting for Food Drive began as a National Good Turn in 1988 and the tradition continues every year at the Garden State Council!
The food drive, which collects non-perishable items, provides much-needed resources to help fight hunger in our communities. One out of five children and one out of every twelve households with seniors go hungry in New Jersey and an estimated 900,000 people rely on food banks just to survive. 
All Scouting units are encouraged to participate in the annual Scouting for Food Drive community service initiative.  
Scouting for Food is a 4-step process.
Step 1: Notify your community on the second Saturday of November using the Door Hangers we can supply to you. Request your door hangers using the "Order Door Hangers" button, below.
Step 2: Return to the same houses one week later and collect their donations.
Step 3: Deliver all non-expired donations to a food bank.
Step 4: Report your service using our form.
Door Hanger Distribution: Nov. 12

Donation Collection: Nov. 19
Door Hangers and Patches Donated by SunPower

Garden State Council has partnered with SunPower. They have provided the door hangers and activity patch for this year's Scouting for Food community service initiative. In return, we are offering their company's information to our members and the community at large. Take a look at what SunPower has to offer: https://go.sunpower.com/partner/scouting-for-food/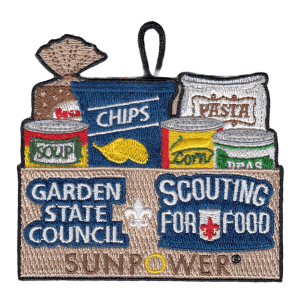 Unit Leaders: Get this year's Scouting for Food patch for your members when you submit your service results using our online form by midnight Monday, November 21.
Donated items can be given to your local food pantry, if you have one.
We are also working with the Food Bank of South Jersey and the Community Food Bank of New Jersey to provide dop-off locations throughout our Council area. These locations will be open with volunteers ready to accept your collected items on November 19 between 9 am and 3 pm. These locations are also included on this flyer, available for download.
Donation Drop-Off Locations
Burlington County
Beacon of Hope
41 Mill St.
Mount Holly, NJ 08060
Contact: Darlene Trappier, 609-288-9517
Camden County
Food Bank of South Jersey
1501 John Tipton Blvd.
Pennsauken, NJ 08110
Contact: Mari (Mar-eee) Kehoe, 609-519-4959
Cape May County
Bethel Commandment Church
402 S. George Street
Whitesboro, NJ 08252
Contact: Monica Farrow/Bishop Farrow, 609-408-7321
2021 Scouting for Food Results
With 35 units reporting, we are pleased to announce that 82,592 items were collected and delivered to food pantries throughout South Jersey in the month of November! Thanks to the 840 BSA-registered Scouts and adults and 474 friends and family members who volunteered to make this happen!