Tools for Growing Your Scouting Unit
Welcome to Garden State Council's Hub for Membership Tools. We hope you find the resources included here useful as you reach out into your communities to bring Scouting to more youth and adult volunteers. We see this page as a place for new ideas and tools, so let the Membership Committee know if you have an idea or tool to share!
Membership Incentive Fall 2023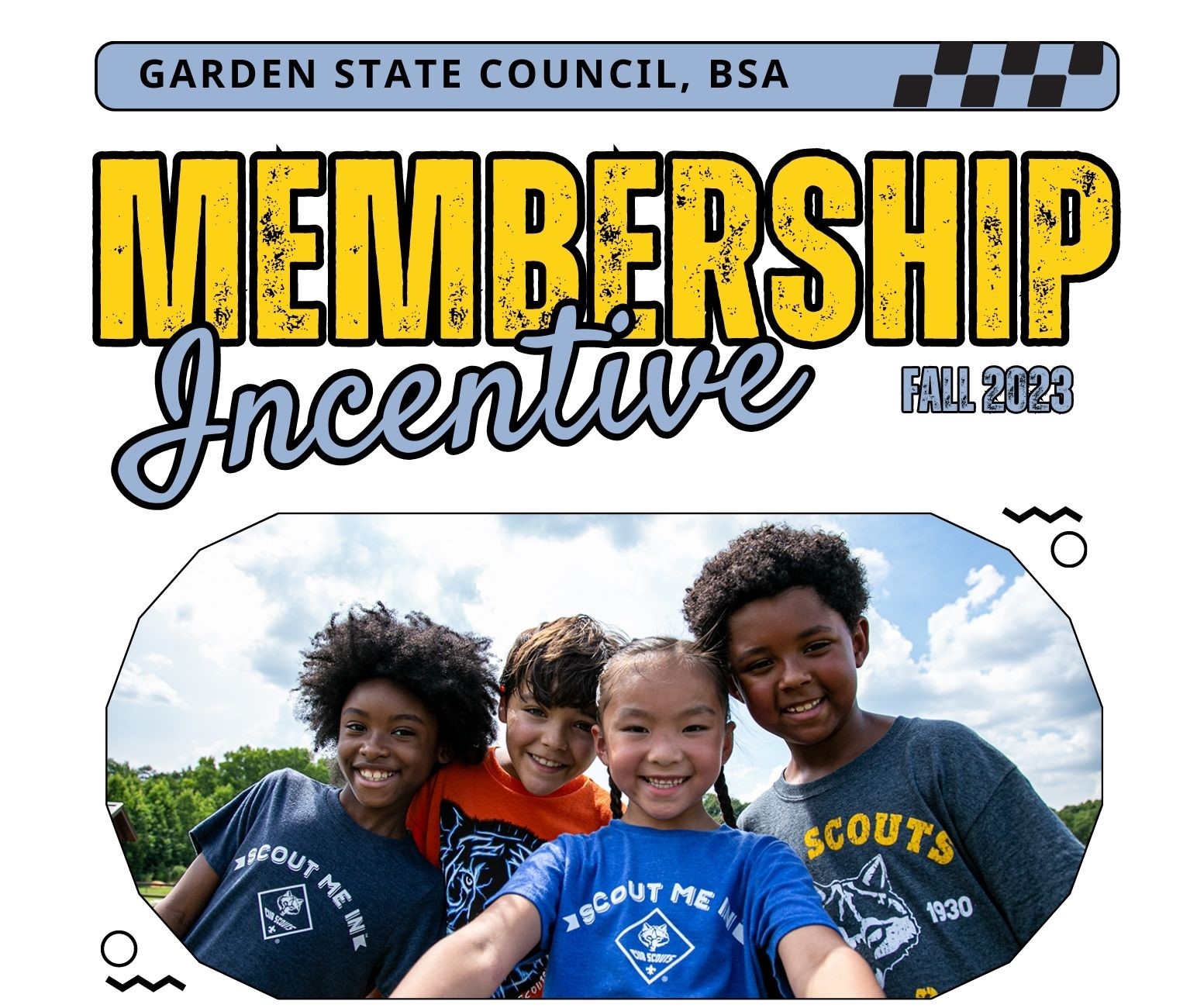 The 2023 Membership Accelerator was a great opportunity for unit volunteers to expand their toolset of membership growth ideas. We are pleased to share the presentations and handouts from this year's event. The following links lead to PDFs of slides or handouts from the 2023 Membership Accelerator.
Make a big push as the new school year begins to grow your Scouting unit by holding Sign Up Nights and other recruitment events through elementary schools throughout our region and bring the message of Cub Scouting to all kids in grades K through 5. Cub Packs can coordinate with their District Executives and their local schools to help plan, promote, and implement a successful Sign Up Night in September or October. Paper Rockets, info packets, social media ads, Council team members — and Pack family involvement — are all components of a successful Sign Up Night. Help us help you grow your Scouting unit this fall! Contact your District Executive to find out more!
1. Sign Up Night:
Pack Responsibilities
2. Sign Up Night:
Tools for the Event
3. Sign Up Night:
Sample Presentation
The BSA has a resource hub where units can find a range of ideas and tools for fueling your recruitment activities.  Visit Scouting.org/recruitment to learn more.

Happy Scouts are the best ambassadors of Scouting! Structure your programs and activities so that "bring a friend" becomes the norm. 
Peer-to-Peer Cards are a great tool to help Scouts invite their friends to participate in unit activities. Plus, they help the parents of prospects understand what their kids have been invited to do.
Pre-made templates for peer-to-peer cards are available for each Scouting program on the BSA Brand Center. Or, you can use free online tools like Canva to create your own.
Is your unit rolling out the welcome wagon to new families?
Sustaining strong membership in a unit depends partly on reaching new audiences to invite them to join and partly on engaging new members and their families so that they feel welcomed and want to stay.
The role of the New Member Coordinator is to ensure that both keys to success take place.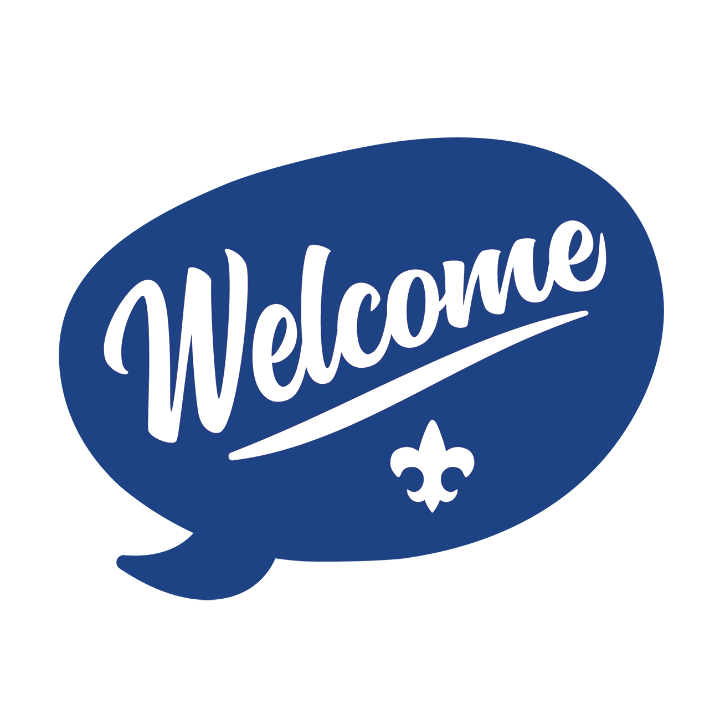 New Fees as of August 1, 2023
New Annual Membership Fee Process Announced – BSA Will No Longer Prorate Fees for New Members beginning August 1, 2023.
Beginning August 1, 2023, all new youth and adult members who join Scouting will be enrolled in a 12-month membership cycle and BSA will cease prorating fees. Both youth and adults will pay the full annual membership fee and will renew their membership on the anniversary date of joining Scouting. All proration of membership fees will be eliminated. Each registered member of the BSA will receive an email notice with a registration renewal link beginning 60 days before the anniversary month they joined Scouting. Unit leaders will receive a copy of the email and should stay engaged in the membership renewal process just like they do for rechartering.
Effective August 1, 2023, the BSA will implement the following national membership fees, which were approved by the National Executive Committee:

$80 for Cub Scouts, Scouts BSA, Venturing and Sea Scouting participants ($5 increase)

$60 for all adult volunteers ($15 increase to provide general liability insurance and enhanced background checks)

$25 one-time joining fee for new program participants in Cub Scouts, Scouts BSA, Venturing and Sea Scouting (Not prorated and no change in fee)

$30 for Scoutreach (Not prorated)

$25 for Merit Badge Counselors (New Fee applies only for Merit Badge Counselors not already registered as leaders)

$50 for Exploring participants Youth & Adult ($5 increase)

$100 for a unit charter/affiliation fee (no change in fee)

$15 for Scout Life magazine
Key Updates for Charter Renewals

Units with 2023 expiration dates- No changes, you will renew charter and membership as always.

Units with February 29, 2024, expiration- Unit will automatically lapse after 1 month. Renew your charter by the end of March. Your unit and members will still have a February 2024 expiration date.

Units with March-December 2024 expiration dates- You will renew your charter and membership under the new system.
The BSA created "Scout Talk" videos, and we have selected a few for easy sharing and posting by units. Use these videos of Cub Scouts or Scouts BSA members on your social media pages and unit websites. 
Before your virtual or in-person Join Night, review these "Scout Talk Questions Answered" videos as a way to prepare. If you need additional resources, including pre-formatted social media posts and additional videos, visit the BSA's Brand Center!
Boy- Maddox
Boy- Carlos
Boy- Dax
Girl- Eden
Girl- Jada
Girl-Kathleen
Boys & Girls
Boy- Deagan
Boy- Kingston
Girl- Anya
Girl- Marlee
Spanish
Man & Woman
Woman- Zebretta
Woman- Celina
2 Women- Celina and Zebretta
Man- Justin
Man- Orlando
Resources for Answering Questions
Scouting instills values, gives youth a competitive edge and helps them become resilient adults, adults who lead. Scouting brings families together and gives them the platform for true, quality time together, where memories can be made that last a lifetime.
We also recognize that in your social circles, some may wonder about Scouting. They may ask questions about things they've heard or seen. They may be confused about who we are and what we do.
To help you answer those questions, we've put together a few tools for you.
We need to remind our communities why Scouting has thrived for more than 110-years. While we've evolved over the decades, along with our country, our values remain grounded in the same Scout Oath and Law.
Every family in our country should be invited and welcomed into Scouting.
If parents want their children to:
Be of good character
To experience the outdoors
To make friends
To have fun
To learn things that will help them navigate life
To be inspired to find careers and lifelong hobbies
To work cooperatively with peers and adults
And so much more
Then, they should try Scouting.
Please use the following tips and tools to help facilitate conversation as needed. You may have already received that question: "What's going on with Scouting? What am I hearing about?"
If you encounter a question you can't answer or need some help, do not hesitate to reach out to your District-serving Executive or feel free to reach out directly to our Council's Chief Scout Executive, Patrick Linfors.
Before any conversation about Scouting ends, don't forget to invite them to join. The easiest way to do that is to invite them to join your unit and they can register online at  www.BeAScout.org.