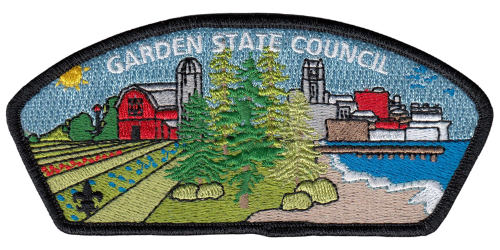 The Garden State Council is excited to announce the debut of a new Shoulder Patch (CSP) for use on the BSA uniform.
This new GSC Shoulder Patch is the product of the dedicated work of a committee of volunteers, both youth and adult, from across the council, who were brought together earlier this year to examine the possibility of a new "council strip."
This committee agreed to build a new patch with the goal of showcasing foundational elements of the areas that make up the territory of the Garden State Council.
The new patch includes:
Farmland: designed to accurately depict local farm architecture. The blue and red in the fields represent tomatoes and blueberries. 
Pinelands: the pine trees are designed to represent the trees that dot the Pine Barrens.
City: the buildings match the skyline and architecture of Camden.
Shore: the pier/ocean scene represents the shining shore region of our Council.
The Council is proud to offer this new Shoulder Patch, which was originally drawn by an Eagle Scout youth member of the CSP Redesign Committee.
It is now available for purchase in the Scout Stores in Westampton and Millville.
While this patch becomes the "lead" council strip for the Garden State Council, the committee is working on a potential new series of shoulder patches in the coming years. Stay tuned!
Finally, it's important to note, the previous GSC "Shoulder Patch" remains approved uniform wear.