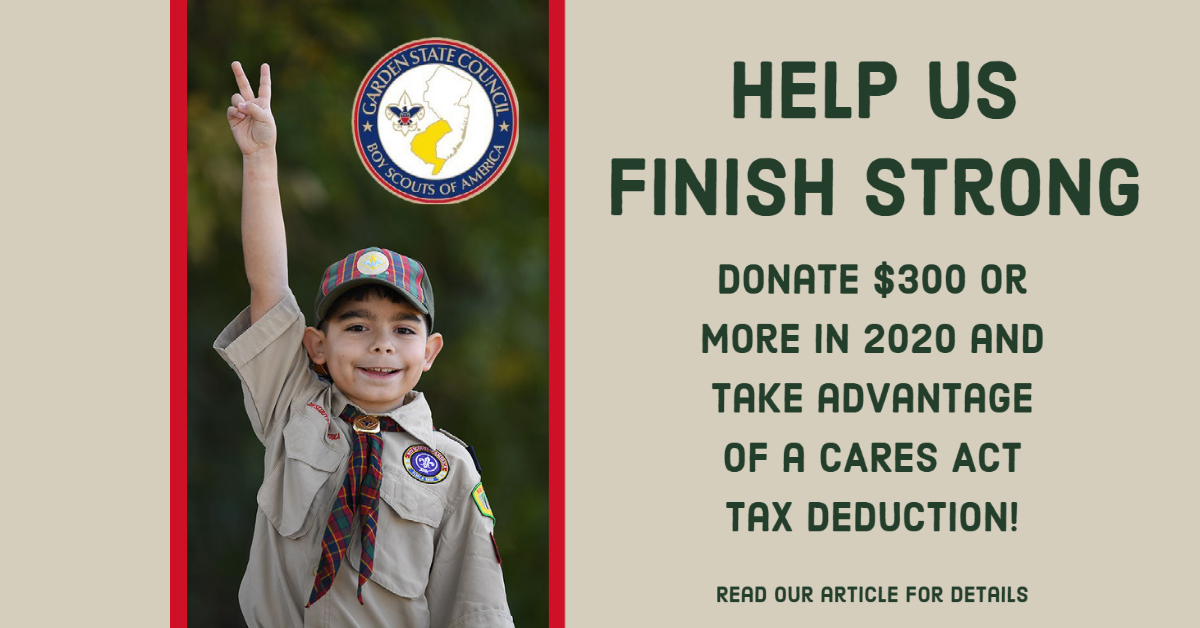 Have you donated $300 to charity this year?
Know how the 2020 CARES Act impacts you and charitable donations.
Consider a gift to the Garden State Council before December 31st.
www.gardenstatescouting.org/fos
From the Internal Revenue Service:
The IRS is reminding taxpayers of a special new provision that will allow more people to easily deduct up to $300 in donations to qualifying charities this year.
Following special tax law changes made earlier this year, cash donations of up to $300 made before December 31, 2020, are now deductible when people file their taxes in 2021.
The Coronavirus Aid, Relief and Economic Security (CARES) Act, enacted last spring, includes several temporary tax changes helping charities, including the special $300 deduction designed especially for people who choose to take the standard deduction, rather than itemizing their deductions.
Nearly nine in 10 taxpayers now take the standard deduction and could potentially qualify for this new tax deduction.
Under this new change, individual taxpayers can claim an "above-the-line" deduction of up to $300 for cash donations made to charity during 2020.
This means the deduction lowers both adjusted gross income and taxable income – translating into tax savings for those making donations to qualifying tax-exempt organizations.
Cash donations include those made by check, credit card or debit card.
Your gift truly makes a difference in the lives of young people!
Please Click Here to show your support of Scouting in South Jersey.