Hi Everyone, and greetings from your Council NESA Committee. On the outside chance that you're not real familiar with NESA, here is a little background, as well as some upcoming awards:
Exactly what is NESA? The National Eagle Scout Association (NESA) is an organization comprised of (you guessed it) Eagle Scouts from the entire United States of America. It is part of the Scouts, BSA, and while one has to be an Eagle Scout to join, joining is not mandatory. There are Committees at each Council level, Regional level and at National, and we (the Council level) administer the local level awards and nominate for the National level awards. We work to further the mission of Scouts, BSA, and generally try to keep Eagle Scouts involved in the Scouting program, especially once they are eligible to be adult leaders. There are annual and life memberships for Eagle Scouts of any age. For more information please check out NESA.org.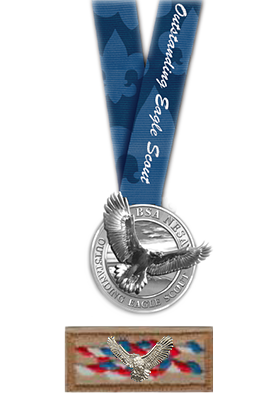 NESA Outstanding Eagle Scout Award (NOESA)
The NOESA recognizes Eagle Scouts who have gone over and above that which one would normally expect, in their service to Scouting and the Community. There is no specific time requirement to receive this award.  It is the feeling of the Committee, though, that an individual should have had a chance to put his (soon to be his and her) Eagle Scout "skills" to work, not only in his Scouting life, but in his chosen avocation and the Community at large. Well, how long does that take? Someone who's been an Eagle Scout for 50 years is clearly qualified. Someone who's been an Eagle for 5 years, probably not. We're looking at the whole person and what they've accomplished. If you've submitted a nomination in the past, there's no reason to resubmit, unless you want to pass along updated information. The nomination deadline:  December 15, 2020
Distinguished Eagle Scout Award (DESA)
The highest award NESA grants, the DESA has a 25-year requirement and candidates compete on a National level.
There is much more information at NESA.org for both awards. If you have someone you believe is qualified, by all means let me know. Hopefully, this has given you an appreciation for what we're looking for in future NOESA candidates.
Adams Eagle Project of the Year Award
This award, sponsored by Glenn and Melinda Adams, recognizes the most outstanding Eagle project in any calendar year. Competitions occur at the Council, Region and National level, and are based upon selections at the previous level. There is a form on the NESA website, which must be submitted to us by January 21, 2021. And if that's not incentive enough, there are $$$ available in the runner-up positions at the Region level and above.
Thanks for your attention. Any questions:  dantodd228@gmail.com. 
Dan Todd, NESA Chairman